How to Improve Your Dishwasher's Performance
Posted on September 08, 2022
After a long day of cooking, the last thing you want is for your dishwasher to malfunction on a night with tons of dishes. Sure, you can hand wash them, but after a while, it becomes an inconvenience for someone with a busy lifestyle. As you pull up your phone or laptop and search "appliance repair near me," look for the team of experienced technicians at FIXIT Appliance Service. We provide reliable and thorough services at cost-effective prices.
Don't stress when your dishwasher is acting unusual or not performing up to par; contact the professionals at FIXIT Appliance Service for an effective dishwasher repair.
Here are 3 simple ways you can improve your dishwasher's performance.
Rinse Your Dishes First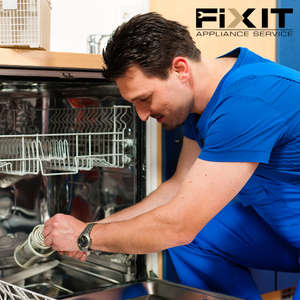 A common issue with dishwasher malfunctions is due to not rinsing food from your dishes before putting them in the dishwasher. Most dishwashers can effectively de-grime and clean your dishes, so don't put too much effort into rinsing them. In fact, dish soap works with food residue to activate enzymes that make the dishes squeaky clean. But, clumps of food and large amounts of liquid can cause your dishwasher to miss stuck-on food pieces or become filled with food residue. To prevent this, simply scrape the leftover food off your plate, then rinse your dishes.
Don't Overload Your Dishwasher
There could be many reasons your dishwasher isn't working correctly, such as a defective water inlet valve or a blown fuse. Although another common issue that causes your dishwasher's performance to decrease is from overloading your dishwasher. The sprayer can be blocked by an overload of dishes, impacting the cleanliness of your cutlery and dishware. When appliances are overworked and not fixed correctly, it could result in needing an appliance replacement, costing you more money. It's essential for a professional to diagnose and perform a dishwasher repair before the problem worsens.
Make Sure the Appliance is Clean
To prevent the need for dishwasher repair, you should look for the signs of a dirty dishwasher and clean it for better use in the meantime. Try cleaning the dishwasher trap located under the lower sprayer. If the tray is able to be removed entirely, you can wash it in the sink and run a load of dishes afterward. If your dishwasher has a foul smell, buildup, or scum, and your dishes aren't coming out clean, reach out to FIXIT Appliance Service for professional appliance repairs near Avon.
Professional Dishwasher and Appliance Repair in Avon, Ohio
If your dishwasher still isn't performing, don't wait for it to get worse. It's time to contact the expert technicians at FIXIT Appliance Service for effective and reliable service.