How to Decide Between Range Repair and Range Replacement
Posted on May 06, 2021
If you start to hear strange noises, notice large cracks emerging, or realize the burners are not igniting consistently when using your range. You should get it looked at by a professional because something is definitely amiss. Depending on its condition, a repair can be an easy fix for your range. But how do you know if you should get a range repair or completely replace it? Repair and replacement are both viable options but the decision depends on various factors Typically, appliance repair in Ohio is less expensive and less stressful than a total range replacement, but depending on the condition of the range, a replacement can offer a more simple and effective fix.
We've put together some tips to help you decide between a range repair or replacement.
Cost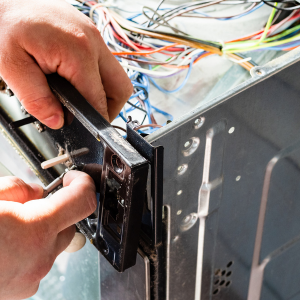 The general rule is to not spend over 50% of the cost of an appliance on its repair. However, if it is affordable and capable of significantly extending the longevity of your range, a repair is well worth it. When you spend on quality repair services, you won't have to rush to buy a new range on short notice. To ensure your range repair is cost-effective, get an estimate from a trusted appliance repair company.
When you choose Fix It Appliance you can trust our team of range repair specialists to deliver a high-quality & speedy appliance repair. We are officially authorized for appliance repair and we are committed to offering fair prices, providing accurate estimates, and using quality materials.
Diagnosis
Whether your range requires a straightforward repair or a complete replacement depends on its diagnosis. If there is an expensive problem plaguing it, then repairs are not typically a cost-effective decision. However, common issues with displays, ignitors, heating elements and other isolated areas are often ideal for repairs because once they're fixed, your range will continue to operate as new. Your appliance repair team should give you a fair analysis and advise what potential solutions are available and how it impacts the lifespan of your appliance.
Warranty
Does your repair company offer a comprehensive and fair warranty program? Range repairs that don't have a parts guarantee or a labor guarantee will result in you incurring additional costs if your range breaks down again in the near future. These recurring costs of repeated repairs can end racking up an expensive bill. That's why it's best to enlist the help of a trusted and certified professional that employs experts, leverages premium parts, and provides top-notch workmanship the first time around and backs in up with comprehensive warranty.
Lifespan
What's the expected lifespan of your range, and how far into that lifespan are you?
It's usually not worth spending on a repair for a range that is close to its end. Instead, it's beneficial to invest, repair costs towards a new range that will go the distance. On average, a range should last approximately 15 years, so if you're on the early end of that timeline, a range repair will likely solve your problem as well as extend the life of the range.
At Fix It Appliance, you can trust our expert technicians to accurately and honestly diagnose your range. If we feel like you would best benefit from a replacement, we will tell you, and if your problems could be solved with a repair, we will be there to help.
Contact Fix It Appliance today for Quality Appliance Repair across all the major cities in Ohio, including Cleveland, Avon, Westlake, North Olmstead and more.