How to Avoid Laundry Room Fires with Washer & Dryer Repair
Posted on May 19, 2022
When it comes to laundry room appliances, the most significant safety concern is always a fire. That's why, in addition to washer and dryer repair, it's even more important to have regular dryer maintenance from knowledgeable appliance repair services in Avon. In most cases, laundry room fires can be completely mitigated with early detection of problems in these machines and fast washer and dryer repair.
If worse comes to worst, FIXIT Appliance Service can repair your washer or dryer in the event that either catches fire. In fact, our services are not limited to washers and dryers – we can fix everything from fridges, ovens and dishwashers. While appliances do eventually break down, you can always take precautionary steps to prevent hazards or dangerous incidents.
If you identify a problem with your washer and dryer, contact us now to have one of our experts for appliance repair services in Avon.
Protecting Your Dryer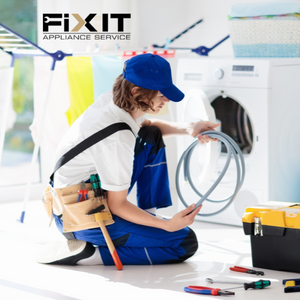 The simple way to prevent your dryer from catching on fire is to clean its lint trap after every use. If you leave lint to build up in the lint trap, your appliance is at risk of bursting into flames with each new load. While you're at it, you should also clean the dryer tube that feeds out into your home's exterior. Tiny pieces of lint can still make their way down the tube and get caught in crevasses or cracks. As lint accumulates in these hidden spaces, the greater the risk that they will catch fire.
If you don't feel comfortable cleaning the dryer tube, have one of our experts at FIXIT Appliance Service help you out. In fact, it doesn't hurt to have a professional come in once or twice a year to clean your dryer.
There are some key red flags that you should keep an eye on if your dryer vents are clogged with lint. Look out for a burning smell during or after the drying cycle. Another red flag is if your dryer and/or clothes are unusually hot. If you see that pieces of lint are scattered around the dryer, this means that your dryer cannot hold any more lint. If you detect any of these warnings, immediately seek appliance repair services in Avon.
Protecting Your Washing Machine
While not as probable as a dryer, a washing machine can still catch fire. A lot of the time, it has to do with wear and tear, which is why regular washer inspections are essential.
A washing machine may catch fire because of the appliance's v-belts, conveyor, or drive wearing out, overheating and catching on fire. The drain pump may also get blocked and lead to the machine overheating. Faulty wiring can also generate and spark a fire.
Protecting Your Laundry Appliances
The best way to avoid costly washer and dryer repair is to consult with FIXIT Appliance Service and arrange for regular inspections of your appliances. Without professional insight and expertise, there may be no way of knowing your appliance is a potential hazard until it's too late.
At FIXIT Appliance we also offer a dryer maintenance program that can help to mitigate the risk of laundry room fires in Avon.
Contact an expert at FIXIT Appliance Service for fast appliance repair in Avon.