How Power Outages Can Affect Your Appliances
Posted on August 25, 2022
When a sudden storm or lightning strikes near your property, it can cause havoc to your primary power grid, resulting in power outages and revealing damage when the lights come back on. Though most storms don't last very long, the power surges can leave your electrical appliances out of order, barring access to some of the most essential functions of your home. Luckily, in some cases, you may not need to dish out thousands of dollars on a replacement. Instead, restore your laundry machines, oven, range dishwasher, or other home appliances to working order with high-quality appliance repair in Avon from FIXIT Appliance Service.
If you notice that your home appliances aren't working properly, reach out to FIXIT Appliance Service for reliable laundry and kitchen range repair services.
Read on to learn how power outages affect your appliances and how to respond.
How Does a Power Outage Affect Appliances?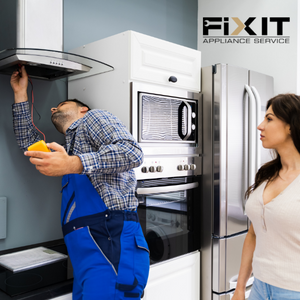 Power outages happen for many reasons, not only due to storms. Sometimes, power outages are the result of excessive electricity use in a specific neighborhood or area. Or, in other cases when there's destruction to the power grid from debris, collapsed trees, and more. The damage from appliances doesn't happen when the power goes out but when it suddenly turns back on because the network voltage may be higher or lower than average. If there is a surge, a voltage increase damages your appliances that are not surge protected, meaning you'll most likely need anything from washer and dryer repair to range repair services done by professionals.
Regardless, the last thing you want is your everyday appliances to not function as they should. To get your appliances back up and running, reach out for a professional appliance repair in Avon so you can get back to the swing of things.
How to Protect Your Appliances
Now that you know how power outages affect your home appliances, here are some ways you can protect your appliances from damage in the first place.
Unplug Appliances: Unplug appliances like washers, dryers, or your oven when the power goes out, especially if they were in use when the power went out.
Surge Protectors: Use a surge protector to shield against power surges when your electricity is restored.
Keep the Fridge & Freezer Closed: Keep your food and drinks cold by keeping the refrigerator and freezer doors closed.
Choose FIXIT Appliance Service
As a family-owned business, we understand the importance of fixing your electrical appliances. If you have experienced a power outage that has resulted in a broken home appliance contact the professionals at FIXIT Appliance Service to quickly and efficiently repair the issue.
We provide repairs for all major household appliances like washers, dryers, ranges, dishwashers, fridges, and ovens. With highly trained technicians with years of experience, you can trust that your appliances will be back to normal in a flash.