How Do Cold Temperatures Affect Your Household Appliances?
Posted on November 04, 2021
During the dark, frigid winter months, even the most straightforward problems become a little more challenging to solve. Many people rush to prepare their homes for the winter to avoid preventable issues in the thick of a snowstorm. Homeowners looking to protect their appliances and ensure their runs smoothly might not consider that a drop in temperature may leave them searching for an appliance repair shop in Avon, Ohio.
FixIt Appliance is a trusted and certified appliance repair shop in Avon, Ohio. If you require range, fridge, dishwasher, freezer, or dryer repair in the area, you can call our team for fast, high-quality, emergency services.
Are Below Freezing Temperatures Something to Worry About?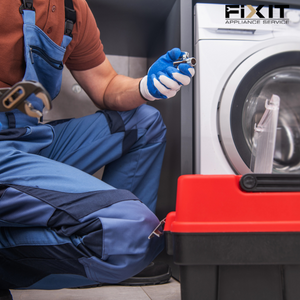 The short answer is yes. When temperatures drop close to and below freezing, you may find yourself in need of refrigerator, washer, or dryer repair in Avon. Damage is even more likely to occur with appliances in the garage or basement, where there is less insulation and the cold is more intense.
Here's how the winter temperatures in Avon may affect your home's most important appliances.
Laundry Appliances
It's not usual for washing machines and dryers to be installed in the basement. Unfortunately, when the weather gets too cold, damage can quickly set in. One preventative measure you can take is to install new appliances in a convenient location on the main floor. There is not always a good option for this in every home, but it's definitely worth considering.
When a washer is installed against an outside facing wall, hoses and pumps that channel water to and from the drum can turn to ice, causing damage to the drum and even more significantly the water inlet valve. Once temperatures rise again, the ice will often melt leaving the whole area a wet mess.
To avoid frozen water pipes and pumps, you can have your hoses insulated to keep water temperatures above freezing temperature. You can also disconnect your hose between uses to prevent it from getting too cold.
Signs Your Inlet Valve is Broken
If the drum of your washing machine is not filling with water, or only partially filling, there is a good chance the inlet valve is broken or in need of professional repair. If it's cold out and you just can't get any water into the drum, then stop your load and call FixIt Appliance Repair. We offer fast and affordable washer and dryer repair services around Avon.
Kitchen Appliances
Like in the case of washing machines, kitchen appliances that depend heavily on water, such as refrigerators, dishwashers, and freezers, can easily be affected by drops in temperature. If these appliances are installed in a garage or adjacent to an outside-facing wall, there could be trouble come winter.
The functionality of all three of these appliances depends on their water supply. If you have a fridge or freezer installed in your garage, a space heater helps to slow freezing. However, a space heater should never be left unattended or left running overnight. A safer, more dependable solution is to insulate the hoses, water lines, and valves to prevent freezing.
Signs Kitchen Appliances Are Broken
If you notice any ice, water leaks, mold, or mildew around any of your kitchen appliances, you'll likely need a freezer, dishwasher, or fridge repair in Avon.
At FixIt Appliance we're committed to delivering fast, affordable, and reliable appliance repair in Avon, Ohio.
Contact us today to schedule a repair from the FixIt Appliance team.