How Appliance Repair Needs Differ Based on Your Range
Posted on July 19, 2022
Ranges are essential to every kitchen, but not all ranges are built similarly. Different types of ranges provide you with different results, and what may seem like a great perk for one home might not work out for another. Likewise, different types of ranges can have issues unique to them. That's why it's essential to have the right team on-site to fix your range. For the best and most effective range repair services in Avon, contact the FIX IT appliance repair team. We provide high-quality, cost-effective appliance repair near you in Avon and surrounding areas.
Read on to learn more about how appliance repair needs differ based on your range type.
Gas Range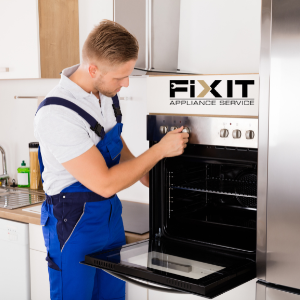 Gas ranges are what many people consider the traditional oven. Typically, gas ranges include at least four elements – the two smaller ones are called burners, while the larger two are considered griddles. A common issue with gas ranges is surface burners with a weaker flame than usual. You can, of course, try to clean out the valves yourself, but if you've got a feeling the issue is gas related, it's time to call an appliance repair expert near you.
Electric Range
As you might have guessed, electric ranges are powered by electricity. They're often seen as an excellent alternative to gas ranges since you don't have to worry about constantly keeping an eye on the flame while cooking. Issues with electric ranges can be as simple as having coils that won't heat. In this scenario, it's essential to get experts in range repair services to remove the coils, give the range a deep cleaning and adequately reinstall the coils.
Induction Range
Induction ranges also run on electricity; however, unlike electric ranges, they use electromagnetic fields to heat your pots and pan. That's why induction ranges usually get faster results than regular electric ranges. Unfortunately, induction ranges come with issues, like a stovetop that lacks power. This can be for many reasons, like faulty wiring or a problem with your circuit breaker. By calling FIX IT Appliances, you can save yourself a lot of time guessing at a solution.
Freestanding Range
When we talk about freestanding ranges, we're talking about any range that is a slide-in or drop-in oven range. It can be powered by gas, electricity, or induction, and because of this, freestanding ranges are susceptible to different issues. However, a faulty burner is a more common issue for induction ranges. In this case, it's essential to get a hold of range repair service near you that can fix or adequately repair the damaged burner. In Avon, FIX IT Appliances can give you the expert knowledge you want!
Why Choose FIXIT Appliance
FIXIT is your top choice for range repair services in Avon and surrounding areas. With years of experience and motivated technicians, we pride ourselves on getting the job done right. It's time to easily use your appliances with a range repair or replacement in Avon.
Contact FIXIT for range repair services today!