Guide to Repairing a Broken Dryer Vent
Posted on April 28, 2023
In Avon and the surrounding areas, dryers are essential home fixtures in most households. For efficient, safe, and proper functioning, laundry appliances require adequate maintenance and appliance repair. Dryers, in particular, can quickly end up with a blocked, crushed, or disconnected, which ultimately interferes with the safe operation of the machine. When you notice signs that your dryer vent is not working as expected, dryer repair is essential. At FIXIT Appliance, we offer urgent and scheduled appliance repairs to keep your home running smoothly. We also provide convenient preventative maintenance for your dryers, which you can contact us to learn more about.
Want to know how to navigate a broken dryer vent? Read on.
Role of the Dryer Vent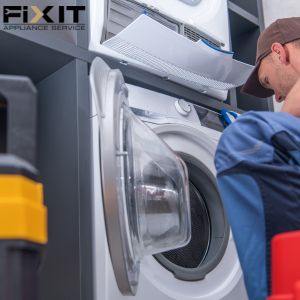 Dryer vents typically look like large white or silver hoses, either made of aluminum or vinyl, extending from the appliance itself through the wall or ceiling. The job of the dryer vent is to expel hot air from the home. It also removes moisture and lint or other debris. When your dryer vent does not work effectively, water, heat, and lint will start to collect in your home, which can be a fire hazard. If you notice excess heat or moisture in your laundry room, contact FIXIT Appliance for a professional assessment and appliance repair near you.
Signs of Dryer Vent Trouble
A dryer vent usually won't suddenly stop working or become broken. Usually, the signs present start to show up slowly. By recognizing the indicators that your vent is in jeopardy, you can contact the dryer repair team at FIXIT Appliance and stop the damages before they become too serious.
Some signs that dryer vents are breaking down:
Clothes taking longer than usual to dry
The dryer feels hotter than usual
A burning smell coming from the dryer
A lot of lint accumulating on the lint filter
The vent hood flap not opening when the dryer is on
Types of Broken Dryer Vent Repair
Depending on the reason for the problem, you can restore safe functionality back to your dryer with comprehensive appliance repair. When it comes to your dryer, it's always best to reach out to a certified appliance repair service near you, like FIXIT Appliance. Our team has the experience and knowledge to ensure your repairs are handled carefully and precisely.
Clogged Vent: Lint, dust, and other debris can accumulate in the vent over time, reducing airflow and increasing the fire risk.
Crushed Vent: The plastic or aluminum vents that exhaust your dryer can be easily kinked or crushed, resulting in restricted airflow and overheating and increasing the risk of fire.
Disconnected Vent: Dryer vents can also get damaged over time due to wear and tear, weather conditions, or pests. A damaged or disconnected vent can cause hot air and moisture to leak into the house, leading to mold growth and water damage.
Repair Your Dryer Vent with the Experts
At FIXIT Appliance, our team will provide you with professional appliance repair for all your major kitchen and laundry appliances. We will diagnose the problem from the first inspection and provide the best solutions, including high-quality materials. Contact us today for all your appliance repair needs.