Fridge Repair: The Role of the Condenser Fan
Posted on June 23, 2023
Fridges bring the luxury of having cold, refrigerated food and produce that lasts multiple days. Without the cooling appliance, food spoils quickly, costing you money and causing inconvenience. If you are struggling with a faulty fridge, you should call for appliance repair near you sooner rather than later. At FIX IT Appliance Service, we provide high-quality appliance repair services, from fridge repair to dryer repair, that keeps your kitchen running smoothly. Our teams pride ourselves on high-quality, prompt, and reliable services.
Read more to learn the importance of a condenser fan in a fridge.
What Is a Condenser Fan?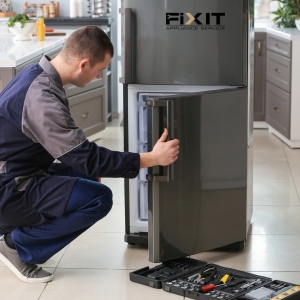 The condenser fan is a crucial component of a functioning refrigerator; however, not all fridges have a condenser fan (if it has the condenser coil mounted to the back). If your refrigerator has a fan, it draws air from the room in through the back, which then turns this air cold. The air is then utilized within the refrigerator to create a cold environment for your food. The fan is typically located in the back or at the bottom cabinet.
Condenser fans are unique to each refrigerator type. This makes the replacement process harder in the case that you have to contact a professional to replace it. Ensure to provide your repair specialist with the model number of your appliance to receive proper care.
Why Is My Fridge Warm?
If your fridge is not working correctly, it is likely due to your condenser fan malfunctioning. The malfunctioning component can also cause the compressor to overheat, causing a rise in temperature. This will call for urgent repair; therefore, check on your fan occasionally to lengthen the service life. Before checking to see if the part is broken, unplug the refrigerator.
If your fan is not broken, it may be in need of thorough cleaning. Residents who own pets may encounter this problem as their hair can easily clog it. The condenser coil should be cleaned every 6 months. The coil is in charge of removing the warmth from the fridge.
When to Get a New Fan?
It's important to know when you need a new condenser fan, even if you are not knowledgeable in appliance maintenance.
Here are indicators it's time for a new one:
The fridge is not producing cold air
The fan is making an unusual noise
The fan is not turning on
The refrigerator is not getting cold
The food in your fridge is going bad.
FIXIT Appliance to The Rescue: Fridge Repair Avon
Once you experience any issues with your appliances, especially your fridge, it's crucial that you call a repair professional. Your food will spoil quickly without immediate attention, leaving a messy cleanup and a faulty fridge. When in need of urgent appliance repair in Avon, Ohio, from high-quality materials to affordable pricing, call FIXIT Appliance Service. We offer emergency appliance repair services. You don't have to struggle without the functionality of your refrigerator for long.
We are equipped with highly-skilled professionals to take care of your repair needs.