Decode What a Noisy Washing Machine Is Telling You?
Posted on August 23, 2023
Washing machines are not known for being quiet. When you run a load, it's normal to hear the swishing of the water, the buzz of the inner mechanics, and the hum of the drum. However, there is a line that the sounds produced by your washing machine can cross. At a certain point, excessive or unusual sounds from the washing machine signify a problem in need of appliance repair in Westlake. At FIXIT Appliance, our team of appliance experts can help you get to the bottom of your noisy appliance and restore function with high-quality and dependable washer repair in Westlake.
To decode the noises your washing machine is making, read on or contact our team of appliance repair experts serving Westlake at FIXIT Appliance Repair.
Banging or Clanking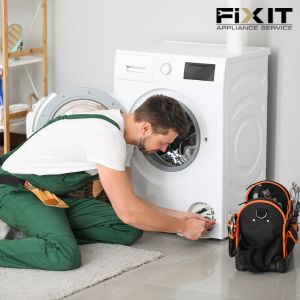 The sound of parts banging together in your washing machine indicates an unexpected collision between two large elements, typically because of items spinning around or within the washing machine drum. While in some cases, this may not be a cause for professional appliance repair in Westlake, and it can simply be the result of buttons and zippers moving around the drum, in some situations, these items can get stuck in the washing machine mechanism, and intensify the rattling or banging sound. If the noise continues after multiple loads of laundry, talk to our team at FIXIT Appliance to determine if washer repair is required.
When the sound from your washing machine is particularly loud, do not use your machine until speaking with an appliance repair service. Spinning very quickly without repair, a sharp item can pierce mechanisms and cause water damage.
Clicking Noises
A clicking sound coming from your washing machine may not be alarming initially, but it is always a good idea to get it inspected and assessed by a trained appliance repair professional. There are several reasons your washer may be making clicking sounds, ranging from a faulty inlet, blockages from debris or lint, worn-out belts, a stuck drain pump impeller, misalignment of parts, or even control board malfunctions. If the problem is the inlet valve, you will be able to tell quickly since the drum will fail to fill with water, in which case you'll need repair services.
To be sure about the source of the clicking, it's beneficial to consult with a professional. If you're concerned about the noise, contact the FIXIT Appliance team for washer repair in Westlake, where we will quickly and effectively diagnose the problem.
Grinding or Scraping
Like with many other sounds produced by an ill-functioning washing machine, grinding can be attributed to a variety of problems. In most cases, the resolution is identifying the failing part and replacing it with high-quality hardware that offers years of extended use. Rusted or worn bearings are among the most common causes of a grinding sound in a washer. Integral in facilitating the rotation of the drum, bearings are small but critical appliance parts; when they stop working as expected, it increases friction and reduces stability within the appliance.
Inspection & Repair Your Washer with FIXIT Appliance Service
When you hear alarming noises from your appliances, don't wait for it to break down. Instead, call the expert team of technicians for appliance repair in Westlake, North Ridgeville, Avon, and the surrounding areas. Trust FIXIT Appliance.