Common LG Dryer Problems That Require Dryer Repair
Posted on January 16, 2023
When your dryer stops working, suddenly, it's more than an inconvenience to homeowners just trying to get their clothes cleaned. If you are experiencing trouble with your dryer, it's in your best interest to schedule dryer repair with the experts at FIXIT Appliance Service. When you need emergency appliance repair in North Ridgeville, our teams will arrive quickly to perform comprehensive diagnostics and repairs.
If you're experiencing one of these common LG dryer malfunctions, it's time to reach out to FIXIT Appliance for dryer repair services near North Ridgeville, Avon, and Westlake.
You Clothes Aren't Drying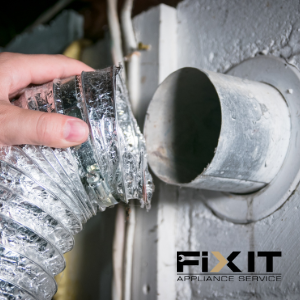 A dryer that doesn't effectively dry clothes or remove all the water from your belongings will often cause bacteria and mildew to fester, emitting strong and pungent odors. Sometimes, LG dryers will stop working correctly because of clogged filters or vents. Running your dryer cycle repeatedly to get your clothes in the desired condition will only cause frustration, potentially further damage, and higher energy bills. With appliance repair in North Ridgeville at FIXIT Appliance, you can quickly restore drying capabilities to your important laundry machines.
Leaky Dryer
Water leaking from any of your appliances is always a cause for concern. The best course of action when dryers leak is to get the dryer repaired fast. As water accumulates around your appliances, it can interfere with electrical wires, contaminate your belongings, or attract mold. Typically leaks in your LG dryer can be attributed to an installation error. Other reasons your dryer may be leaking is because of a twisted or damaged drain hose or a leaking faucet. When you call our team of trained LG dryer repair technicians at FIXIT Appliance Service, we will help you quickly identify the cause of the leak and repair it with high-quality materials, so you can keep your dryer healthy for longer.
Strong Odours
If you've opened your dryer to be greeted with a pungent smell, you may think that your dryer simply needs cleaning. However, a musty odor from your laundry machines may indicate a more severe problem requiring professional dryer repair. These unappealing scents are typically linked to damp clothes that aren't effectively dried and limited airflow from blocked vents. Upon the first instance of smelling these unusual odors, it's a good idea to clear your lint trap. If that doesn't solve the problem, then reach out to FIXIT Appliance Service.
Unusual Noises
A well-functioning dryer will typically produce a hum-like sound similar to white noise. But when problems arise, you may notice more alarming noises such as squealing, grinding, or thumping. These noises can be attributed to many reasons, from broken belts and loose fans to overloaded drums and malfunctioning motors. Running your dryer when it produces these noises can cause problems to intensify or worsen. Get to the bottom of the problem with LG dryer repair services.
Finding the Best Dryer Repair Services
Dryers are sensitive appliances that require care and maintenance. At FIXIT Appliance Service, our technicians specialize in high-quality LG appliance repair near North Ridgeville, Avon, Westlake, and the surrounding areas, as well as reliable dryer maintenance services.