Common Dryer Installation Mistakes
Posted on November 14, 2023
Dryer repairs in North Ridgeville are a common occurrence for many homeowners, and surprisingly, a significant number of these issues can be traced back to installation mistakes. When you need dryer repair, contact a leading appliance repair company like FIXIT Appliance for reliable, fast, and high-quality appliance repairs. To learn more about the most frequent dryer installation mistakes that lead to repair needs and to explore how proper installation can save you from unnecessary hassle and expenses, read on.
Ventilation Woes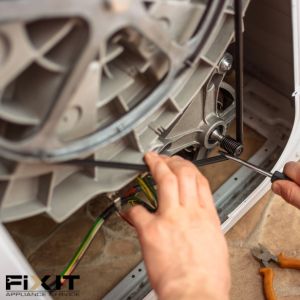 Proper ventilation is crucial for a dryer's efficiency and safety. Incorrect installation of the dryer vent can lead to a range of problems, including lint buildup, reduced airflow, and even fire hazards. When the vent is not installed straight or is excessively long with too many bends, it restricts the airflow, causing the appliance to overheat. Dryer repair in North Ridgeville is often needed as a result of issues arising from poorly installed vents, emphasizing the importance of ensuring a clear and direct path for venting.
Improper Electrical Connection
Connecting a dryer to the electrical supply may seem straightforward, but mistakes can lead to serious consequences. A common error is using the wrong outlet or not securing the power cord properly. An appliance repair company frequently encounters cases where improper electrical connections result in erratic dryer behavior or complete malfunctions. It's crucial to follow the manufacturer's guidelines. When working with the electrical circuits of your dryer and other appliances, it's safest to work with a trusted appliance repair company near you like FIXIT Appliance.
Leveling Problems
Dryers need to be level to function optimally. Incorrect installation, where the appliance is not leveled, can result in excessive noise, uneven drying, and increased wear and tear on internal components. An appliance repair company often addresses issues caused by unlevel dryers, emphasizing the importance of using a leveling tool during installation to avoid these performance-related problems.
Gas Line Mistakes
Gas dryers require a proper gas line connection to function safely and efficiently. Incorrect installation of the gas line can lead to gas leaks, posing a severe safety hazard. Homeowners attempting DIY installations may inadvertently overlook the need for a secure and leak-free gas connection, highlighting the importance of hiring professionals or appliance repair companies experienced in handling gas appliances.
Drum Misalignment
The drum inside the dryer needs to be properly aligned to ensure smooth and efficient operation. Incorrect installation can result in misalignment, causing the drum to wobble, create unusual noises, and potentially damage other internal components. To avoid such issues, it's crucial to follow the manufacturer's instructions meticulously during installation and seek professional help if needed.
Reverse Installation-Induced Damage with FIXIT Appliance
Investing in a high-quality dryer is just the first step in ensuring efficient and trouble-free laundry days. The importance of correct installation cannot be overstated, as it directly influences the appliance's performance and longevity. To avoid unnecessary dryer repairs, our specialists recommend professional installation. If dryer repair is needed you count on our team for emergency appliance repairs 7 days a week.