Are Fabric Softeners Damaging Your Laundry Appliances
Posted on May 08, 2023
Fabric softeners and dryer sheets have been used in many households during laundry to minimize wrinkles in clothes, reduce static between fabrics, and enhance the aroma of freshly washed clothes. Despite their enticing benefits, fabric softener and dryer sheets continue to be linked to maintenance issues and machine breakdowns, leaving homeowners needing appliance repair near Avon. If you love fabric softener but are concerned that you may need washer or dryer repair, read on.
When kitchen and laundry appliances don't work how they are supposed to, the family-owned and locally-operated FIXIT appliance repair service team is here to help.
What is Fabric Softener?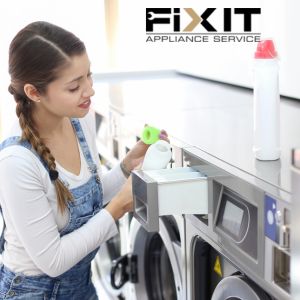 Fabric softener improves the texture, appearance, and aroma of clothes during the wash
process by coating the fibers of your clothes and fabrics with a layer of chemicals, including surfactants, emulsifiers, fragrances, and conditioning agents like pH adjustments, colorants, and preservatives.
When Fabric Softeners Cause Appliance Damage?
While fabric softeners are marketed as an enhancement to laundry, they can cause damage over time. As the condition of your appliances worsens, it's imperative that you contact the experienced washer and dryer repair team at FIXIt Appliance. When the chemicals in fabric softener build up throughout the inside of your washing machines and dryer, it can quickly lead to clogs, reducing efficiency without intervention. As your laundry appliances become exposed to more and more fabric softeners, they will have to work harder to clean effectively, causing them to become worn out faster. Scheduling washer and dryer repair quickly will cause you to minimize repair costs and extend the lifespan of your essential home appliances.
Signs You Need Washer or Dryer Repair?
Considering the positive attributes of fabric softeners, it can be challenging to detect a problem when it occurs. You may notice at first stains on your clothes, a physical coating in your dryer or washing machine, or sticking dryer sheets. Each of these signs indicates an overuse of fabric softener, which can lead to a problem soon after. Furthermore, excessive use of this product may also cause lint buildup and backups or even dryer fires; if you notice the sign and issues with your washing machine or dryer, get an appliance repair assessment from a professional at FIXIT Appliance.
Alternatives to Fabric Softeners
If you want to protect your laundry appliances and keep your clothes soft and static-free, there are alternatives to using fabric softeners. One option is to use white vinegar as a natural fabric softener. Experts also recommend adding a cup of vinegar to your washing machine during the rinse cycle to remove residue and buildup from your clothes and washing machine without leaving any harmful chemicals behind.
Another alternative is to use dryer balls instead of dryer sheets. Dryer balls are made of wool and help to soften your clothes naturally by separating the fibers and reducing static cling. They are reusable and can be used for hundreds of loads of laundry.
Dryer Sheets & Appliance Repair
On their own, dryer sheets themselves typically do not cause direct damage to laundry appliances. Still, they can contribute to the accumulation of debris and residue that can lead to performance issues over time. The best way to protect your washer and dryer is to keep an eye on their performance and efficiency, calling the FIXIT Appliance team at the first sign of trouble for appliance repair services in Avon, Westlake, North Ridgeville, and the nearby areas.