4 Common Reasons You Need Dishwasher Repair
Posted on March 18, 2022
The modern dishwasher became a household appliance in the 1970s but wasn't widely adopted until the 2000s. Now, dishwashers are in approximately 68% of all American homes and used anywhere from once a week to six times every week. The prominence of the appliance in the day-to-day life of Americans is due to its ability to streamline the otherwise unpleasant and tedious process of washing dishes. So, when there is a need for dishwasher repair, it's more than just an inconvenience. It presents a significant disruption.
With trusted appliance repair services in Avon, you can get your dishwasher up and running quickly to get back to your day-to-day schedule. To get your kitchen up and running with dishwasher repair. First, you need to recognize the signs of problems. Here are some tips, something is going on with your dishwasher.
Water Leaks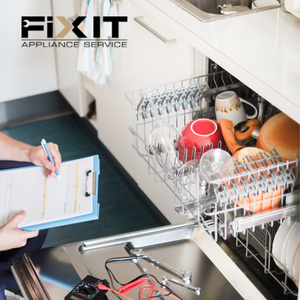 There are many reasons a dishwasher can be leaking, and they range from minor to severe. A leak can be the result of a defective or damaged door seal which can be detected and fixed quickly by appliance repair services in Avon. Leaks may also result from faulty valves, clogged filters, and damaged water pumps. Because the source of a leak is challenging to pinpoint, it's most efficient to contact FIX IT appliance for diagnosis, so you don't waste time or money trying to repair it yourself.
Doesn't Start
A dishwasher that won't start is a problem that makes itself clear immediately. Before calling your appliance repair services in Avon, check to ensure the door is properly closed and the appliance is turned. If there is a problem with the latch, you can have it replaced. If your cycle doesn't start, you'll most likely need a professional dishwasher repair from FIX IT appliance. Other reasons your dishwasher won't start could be issues with the motor relay, the thermal fuse, or the drive motor.
Strange Odour & Noises
Most of the time, a dishwasher in need of attention will send signals through the sounds it makes and the odours it emits. Banging, squealing, or rumbling when the dishwasher is on something could be loose internal parts. When you hear these noises, or if they get louder, don't keep running your dishwasher until you've talked to FIX IT appliance about dishwasher repair. On the other hand, Odours can start to build when food particles get trapped, clogging water pumps and drains in the dishwasher.
Soap Dispensing
When your dishwasher won't dispense soap, it will still run the cycle but not clean any dishes, wasting water and time. If you're pulling dishes out of the dishwasher dirty, check to see if the soap dispenser is still full. You may not need professional appliance repair services in Avon if a large dish is blocking the soap dispenser from distributing it effectively.
Appliance Repair Service Near Avon
FIX IT Appliance is a trusted and reliable repair service for your major home and kitchen appliances around the Avon area. We offer upfront pricing and service 24/7 for emergencies.