4 Benefits of Dryer Maintenance
Although it might not be the first thing on your mind, laundry is a significant part of your everyday life, especially when drying your clothes, linens, and bedding. Homeowners typically bank on the reliability of their dryer, but when something goes wrong, it could be more than a simple inconvenience; it could even be dangerous. The cost and disruption of unexpected appliance repair in Cleveland, Ohio, can be incredibly frustrating. With regular maintenance from FixIt Appliance Service, you can effectively avoid dryer repair.
FixIt Appliance is committed to keeping major laundry and kitchen appliances in top shape with appliance maintenance and appliance repair near Cleveland, Ohio. If you're unsure whether your dryer needs attention, keep an eye on your clothes or linens during and after a cycle: if they aren't completely dry, then your dryer is working a bit too hard, and you likely need dryer repair or maintenance.
Here are 4 significant benefits of professional dryer maintenance.
Save Energy and Money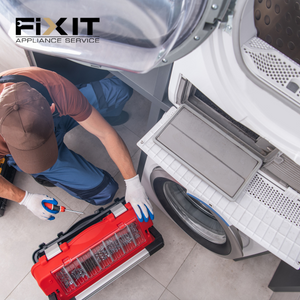 The typical dryer lasts an average lifespan of 8 to 12 years. Inevitably, when left unmaintained, the dryer will run less efficiently, and in turn, take more energy to complete a cycle. The more lint, dust, and dander a dryer collects, the harder it must work to complete a cycle. Even if, in the end, your clothes end up dry, it takes a significantly longer time and consumes far more energy than usual to get there.
A clean, maintained dryer will help it work faster, better and ultimately save you money by using less energy. If you want to keep your utility bill low, regularly maintaining your dryer can help achieve that.
Minimize Dangerous Risks
Dryer fires are a risk that not many people know about but pose a significant danger to your home. The buildup of lint mixed and failing parts create the perfect cocktail for a dryer fire and the immediate need for dryer repair. Our team of trained and specialized technicians will inspect machines for any fire risks and broken-down mechanisms during regularly scheduled maintenance.
Another significant hazard that your dryer poses is carbon monoxide poisoning. If you have a gas dryer rather than an electrical one, you might be at risk for carbon monoxide poisoning, even more so if it's not regularly maintained or cleaned. If a dryer vent isn't well maintained and clogged, the carbon monoxide doesn't have anywhere to be released -- except into your home.
By staying on top of your dryer with a professional, you can better anticipate problems and minimize the potential for fire or carbon monoxide leaks. For urgent appliance repair in Cleveland, Ohio, call or text FixIt Appliance Service, and we will respond promptly.
Convenience
Keeping your dryer clean and regularly maintained is not only safe but convenient. Maintenance keeps your dryer in prime condition, and in turn, it takes less time to completely dry your laundry. Maintenance reduces the need for repairs which cause inconvenient interruptions and unexpected costs. At FixIt Appliance Service, we are committed to offering affordable pricing for appliance repair in the Cleveland, Ohio area and flat rates with no hidden fees.
Air Quality
If water gets trapped in the dryer vent, it attracts allergens, dust, and even mold, which can harm your health and reduce air quality in your home. A clean dryer vent that's well cared for reduces allergens in your home.
Keep your dryer efficient, safe, and affordable with regular dryer maintenance. At FixIt Appliance, our trusted and reliable team is here to help.